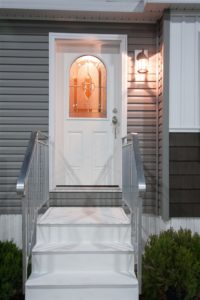 So, you need a new home? Maybe little munchkins have taken up all your personal space and you need more room to hide away from grabby little hands, while you scarf down a chocolaty treat.
On the flip-side, maybe you've successfully navigated raising your kids and they are now off on their own adventures. You're looking forward to a little me time and decided vacuuming and cleaning out gutters of 2,000 plus square feet home is a to-do list item you no longer want.
Deciding to purchase a new home is a big decision, no matter what stage of life you're in and deciding whether to build a new home or buy an existing home is an even bigger decision.
There was a time, before starting in this business, I thought building a home was only for the wealthy or those who had the skills to complete most of the work on their own.
My first time through the display homes at D&W Homes Model Centers, I was surprised by the pricing. Many in the mid-hundred thousands, I figured there had to be some catch.
The price couldn't include all the interior finishes and certainly not the appliances. That amazing master bath, with the huge soaker tub and tile shower had to be additional. There would be some hidden costs. Delivery of the home? Finish?
Nope. As it turned out, when I walked through the homes, what I saw (with the exception of the furniture) is what I got with the as shown price. And that price also included the crawl space, delivery, finish, heating & cooling and gutters. What!?
Not only that, my misconception about modular homes being built to a lower quality compared to stick-built homes was negated, when I discovered they are built to the same code.
It didn't take long for me to realize modular homes are much more affordable than I once thought. So, if you're thinking it's time for a new home, why not stop into one of our model centers in Chillicothe, Jackson or Henderson, W.Va. and take a walk-through?
Michelle Miller is a new to the Modular Home building world and is sharing her thoughts as she learns about the business and the process. Have a question or a topic you would like her to cover? Fill out the form below.